Recognized by Living Now as one of the Year's Best Books for Better Living which help readers attain healthier, more fulfilling, and productive lives.
Recipient of the Evergreen Medal for Spiritual Leadership. Honored as a world –changing book contributing to positive global change.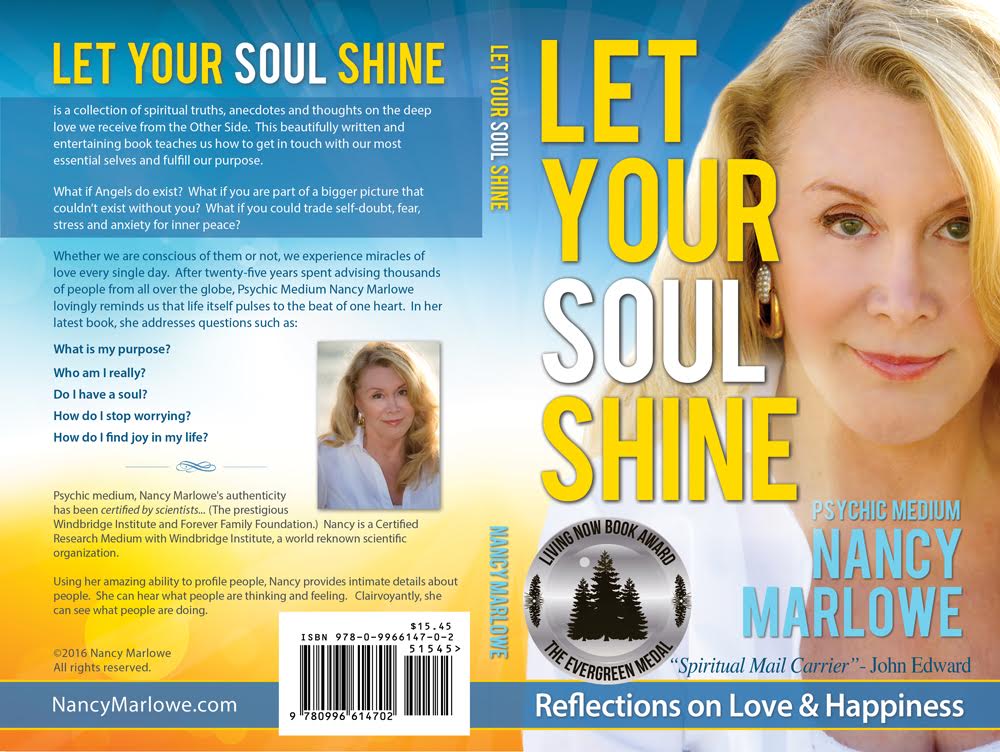 What if you could trade self-doubt, fear, stress and anxiety for inner peace? What if you are part of a bigger picture that couldn't exist without you? What if Angels really  exist?  Whether we are conscious of them or not, we experience miracles of love every single day.
Filled with wisdom and fresh perspectives, "LET YOUR SOUL SHINE: Reflections on Love and Happiness" helps the reader discover answers to life's biggest questions and gives specific instructions on how to set down the heavy burden of fear and loneliness. We learn how to be guided to take the right path at the right time and to enjoy the remarkable miracle that is unconditional love.

A professional day trader for over twenty years, Nancy traded Index Options on the CBOE using technical graphs and mathematics. After being saved from death by an Angel, Nancy Marlowe felt compelled to leave her technical job as a day trader and become a professional psychic medium. Without hesitation, she set aside her skeptical, analytical mind and eagerly began an intense study of spirituality, metaphysics and the paranormal.
Psychic as a child, Nancy grew up sensing spirits and intuitively knowing things other people did not know. She knew what others were thinking and what was going to happen., Nancy realized she wasn't like other people. Feeling like a misfit, Nancy closed the door on her intuition for forty years until she was forced by a horrific car accident to accept what she had known as a child to be true…We are loved beyond imagination by others we cannot see.
Nancy Marlowe is a Windbridge Certified Research Medium of verified accuracy who uses remote viewing, mental telepathy and clairvoyance to locate everything from missing people to hidden treasure. A native of East Texas, she applies her special talent for psychic profiling to salvage relationships and help foster new ones. Nancy is a magna cum laude graduate and a member of Phi Beta Kappa.
You can contact Nancy at: nancy@nancymarlowe.com